A nice bit of British design!
Posted on:

25 September 2017

By:

harvey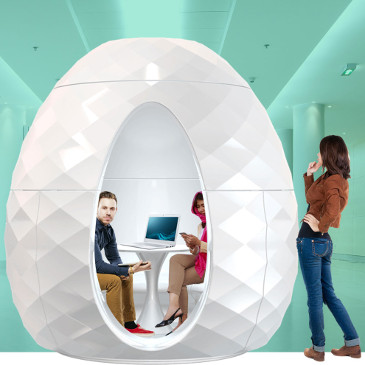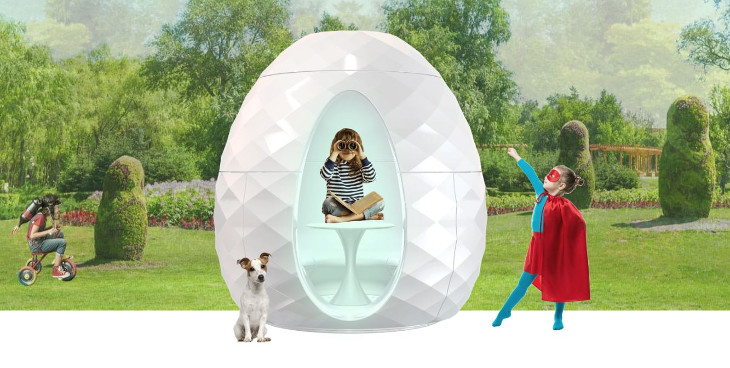 Seed pods have been developed by Safe Innovations Ltd, originally to create private space in public service environments where there's often tension between the need for privacy, pressure on space and limited budgets. The pods provide private spaces where professionals and patients meet for mindfulness, counselling, health screening and other purposes.
The designers soon realised that a product that works so well in one complex environment can have a myriad of uses in others. From busy airports to hectic exhibitions and from open plan offices to high street banks, Seed pods can be used in any environment where you need to create private space within a busy environment.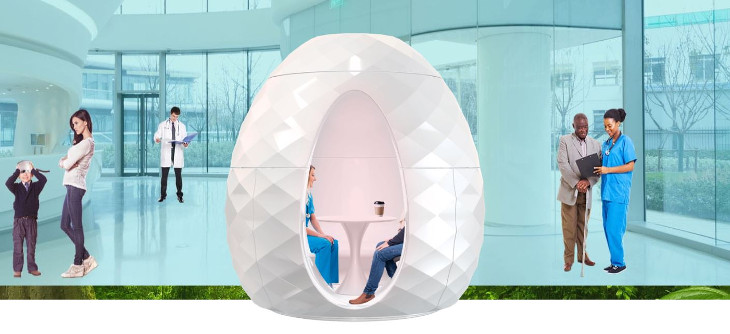 My favourite feature of the product, is its flexibility and moveability. It can be taken apart, moved and reinstalled in around half an hour and it doesn't need any specialist tools or specialist staff. A facilities managers dream!  As well as this there is the obvious feature in that it looks beautiful. A real talking point in any environment. 
The Seed pods can stand alone as modular units, inside or out. There is no requirement for power and there is a roof aperture allowing in natural light. the standard unit can be supplied with or without a table and can be planted anywhere. These units can be used outdoors as a fun space for teh kids, external meeting space at the office or at a festival! The Seed pod:light option had five LED lights in the base unit. Lighting is controlled via your mobile device or remote control and offers full RGBW spectrum with separate white LED for permanent use. Of course this option requires a power source. The Seed pod sensory option offer all the above plus high quality audio capabilities. The reverberating bluetooth speakers create a high quality 'hidden audio system', effectively turning the whole pod into an internal speaker. Create a therapeutic space that supports interventions, for example mindfulness, one-to-one counselling and guided therapies.
The pods can accommodate 5 people and have a diameter of 2386mm and a height of 2425mm. they are made from class 2, fire retardant polyester glass reinforced plastic (GRP) and are finished in a white gelcoat that gives a hard, durable and chemically inert surface. They have a smooth internal surface that meets infection control standards and can be cleaned with a wide range of cleaning products.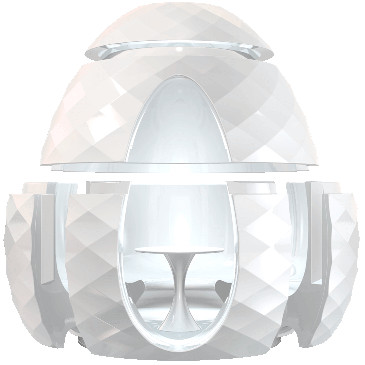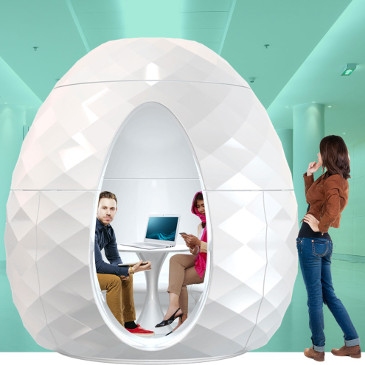 Although there are many uses of the pods there are certain spaces where this product can be particularly effective.
For office's the pods can create a fantastic small meeting space within an existing open plan space without the need for partitioning by contractors or adjustments to existing facilities and services. As they are so aesthetically pleasing they're the sort of space that people like to use and it doesn't have the formality of a traditional meeting room. A great space for a brainstorming session or a touchdown catch up meeting.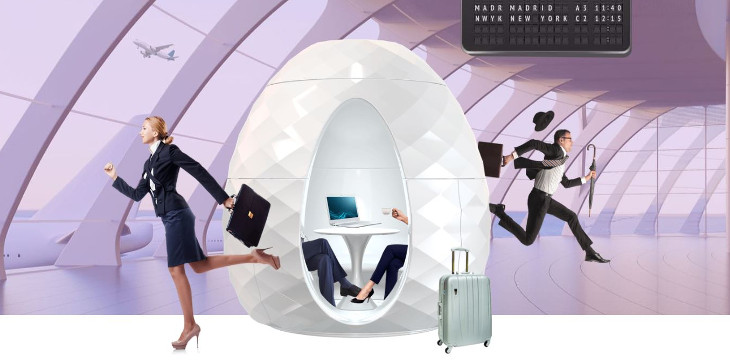 The pods are excellent for public service environments and as an educational resource, particularly for some special educational needs groups. They provide a safe, private space for people to discuss personal or sensitive issues and take the pressure off overcrowded and under resourced facilities. It's an extra private room, anywhere! They provide a safe controlled environment that allow you to manage sound and lighting for beneficial sensory conditions, while the ergonomic design is immediately welcoming and calming.  
For exhibitions the pods give a space to allow you to explain the finer points to keen customers. Prepare quotes, negotiate contracts or use a laptop to video conference the other side of the world, mid exhibition. The unit can be customised with your logo and when the show is over they are easily dismantled and transported to the next venue.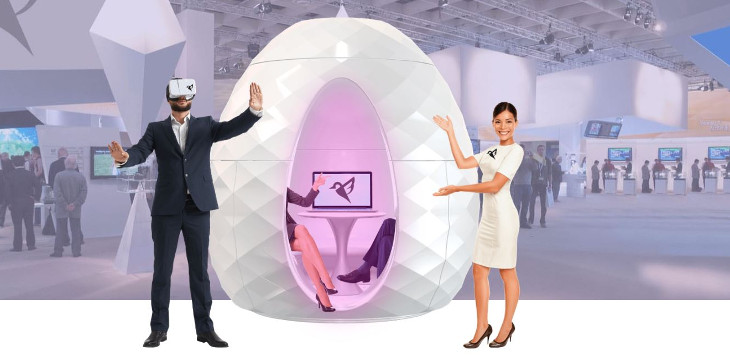 All in all, its a wonderful product. Unique, flexible, beautiful and fun! I hope the designers continue to develop this idea. Maybe a larger unit with an extra entrance, or some form of acoustic product to assist acoustics on the interior? I'm looking forward to seeing where they take this product next!