Camira Fabrics: British, award-winning and sustainable
Posted on:

1 November 2018

By:

ben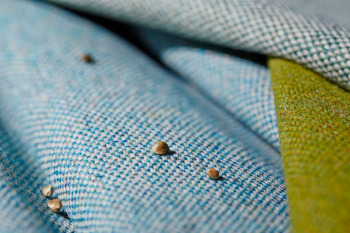 Last week was Orgatec 2018 and we had a flying visit to check out the latest trends in the industry. One stand that stood out for us was Camira Fabric's. Their concept was to capture the world of weaving in a striking installation using gigantic interlacing fabrics in contrasting colours and textures. We have worked with Camira for decades, a unique British manufacturer that weave fabrics for commercial places and spaces.
What makes Camira really standout is that sustainability is at the heart of their business philosophy. Environmental and social considerations are a part of all of Camira's products, production processes and even their culture. This is not just greenwash either,  in 2015 they were recognised for the second successive year for their outstanding achievements in continuous environmental improvement and best in class performance with their Queen's Award for Sustainable Development.   
They hold a huge number of International Standards (including ISO 14001, ISO 9001, OHSAS 18001) as well as being members of the Furniture Industry Sustainability Programme (FISP), the EU Ecolabel, GIGA (Green Ideas Green Actions) and LEED (Leadership in Energy and Environmental Design) – U.S. Green Building Council. It's fair to say that they are leading the fabric industry when it comes to environmental responsibility.
To give you an example of one fabric that demonstrates Camira's environmental credentials let's look at Main Line Flax.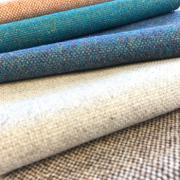 This is a reinvention of the classic Main Line fabric that Camira has manufactured for decades. The twist on this version is the introduction of the flax fibres which involves a world leading process of blending 70% virgin wool with 30% flax. This creates a hardwearing plain weave structure. It is also design-led with an extensive colour palette of 41 shades to choose from.
The flax is grown in the UK and the fabric's environmental profile includes:
EU Ecolabel Certified
The EU Ecolabel identifies products or services that have a reduced environmental impact throughout their life cycle, from the extraction of raw material through to production, use and disposal. Recognised throughout Europe, the EU Ecolabel is a voluntary label promoting environmental excellence which can be trusted.
LEED Credit Contributor
Main Line Flax can contribute to the following LEED credits:
LEED v3
MRc2.2 Sustainable purchasing - furniture (over 50% rapidly renewable material) 
MRc5 Regional Materials (depending on distance of project location)
MRc6 Rapidly Renewable Materials (70% wool, 30% flax)
Manufacturing
Manufacturing Location – Huddersfield, United Kingdom Facility systems 
ISO 14001, ISO 9001, OHSAS 18001 99.8% Waste re-use or recycling
A true British manufacturing success story we look forward to see how they continue to lead and change the sustainability of fabric manufacture.