Casala Showroom visit
Posted on:

17 May 2012

By:

admin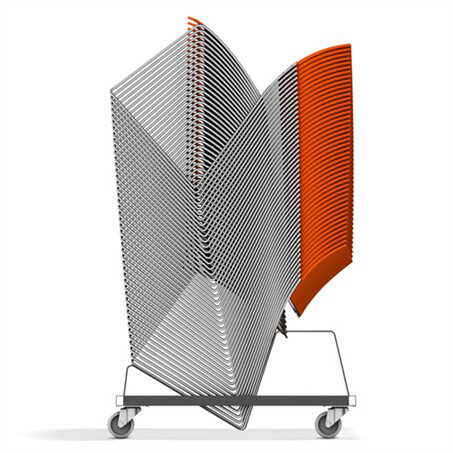 Curvy stacking chair from Casala
April was a busy month at Working Environments, along with completing a number of projects both in the UK and abroad we've also visited the showroom of one of our favourite manufacturers in Holland. Hopefully you'll be as interested as we were in what they had to show us.
Casala are one of Holland's leading contract furniture manufacturer's with a long history of leading edge design and quality product. The showroom is an exceptionally impressive building and it was jam packed with equally fantastic products. Having worked with Casala in the UK on a number of projects over the last couple of years we are well aware of the way the company works and the products they offer but to see their main set up was a real eye opener. Being able to see the full product range, meet the people involved and get a better feel for the company was great fun and gave us a better understanding of how to use the product on future projects.
The core portfolio is focused around meeting, conference and public space applications. We find a number of the products particularly suitable for educational environments, products like the Curvy, Carver high density stacking chairs and the Lacrosse table range . However the real beauty of the ranges is their multifunctional nature, both in their aesthetics allowing use in numerous environments as well as their design quality enabling the products to be used flexibly and efficiently. A classic example of this is the Lynx chair  which was a Red Dot design winner in 2010. Here is a product designed to solve a number of issues in highly reconfigurable, high density seating areas like conference centres. The patented design allows linking and de-linking of chairs with minimal effort allowing spaces to be reconfigured and re-used in exceptionally quick times (watch the video it's quite amazing)! Another key aspect for Casala when developing and manufacturing their products is the environment. Sustainable material sourcing and manufacturing processes are part of the course with Casala and most products are completely recyclable, however the Feniks chair  is available made from completely recycled materials!
No business should stand still and Casala certainly don't, this year they have won an unprecedented four Red Dot design awards.   With their high design quality and problem solving ability, the Parker chair, the folding Riva chair (product link), the Wishbone table and the Zifra numbering system inspired the experts. They received the globally sought-after Red Dot for their fine design language in the product category.
With a product range focused on multifunctional flexible environments and the design ethos on functionality "form following function". Each range being developed into an extensive family based on problem solving with innovative design and use of materials. We love Casala because we feel they represent the same views as Working Environments on all that's great about product design, the environment and above all sustainable business.