Homeworking Pods
Posted on:

7 April 2020

By:

harvey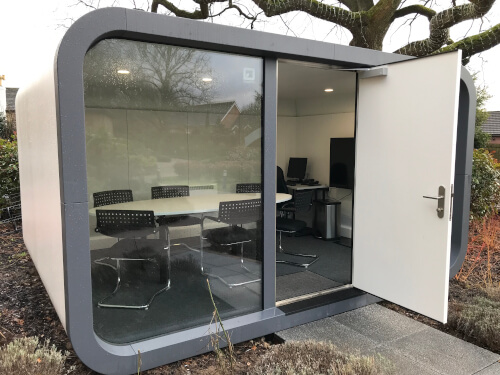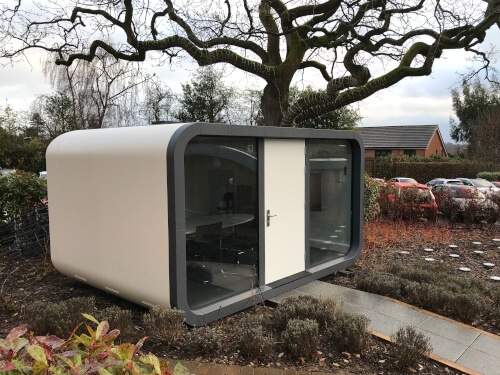 With many of us taking an unplanned homeworking spell in 2020 it has shown not only how simple it is to work from home, but also how some changes in the set up at home can improve our productivity, comfort and stress levels. Some of these changes are very simple, for example how many of us are developing a bad back from sitting on a kitchen chair at the kitchen table for two weeks, but changing to an ergonomic office chair can improve this immediately. Other adjustments need more careful management, such as how to manage a Zoom meeting or conference call with children running around in the background or wanting their turn on your ipad!  As nice as it is to work from home and avoid that morning commute, its often achieving the same level of work focus that you have at work that is difficult. There are just too many distractions when you are sitting in your home, whether its the odd jobs that you need to complete at some point that day, the kids, or the dog that needs that walk. 
The best way to get round most of these distractions is to physically distance yourself from them, as if you were physically heading off to work. In my experience it doesn't have to be far though. Even to step out the back door and travel a few feet is often enough to change that mind set and divorce yourself from the home routine and put yourself in work mode. If you are moving to a dedicated work space you will also have the advantage of being able to set it up with a comfortable ergonomic workchair,  or have confidence that the download speed will be sufficient for your onine meeting, even to know that your notes will be at hand when you reach for them rather than the detritus from breakfast.
If you are lucky enough to have a garden then you can consider getting an outdoor office pod. These pods come in a variety of types and sizes and can often fit in a surprisingly compact space. They can be supplied with heating, power and data supplies, with some even having air conditioning and solar panel options. Although historically a fairly expensive item for homeworking it should be noted that investment in one of the longer lasting pods can mean a lifetime of around 40-50 years. Not only can this have a significant impact on your house value, it could also move with you if you decide to relocate and the cost can be spread over a number of years if you decide to lease the unit. Many companies are beginning to see the advantages of having some of their staff working from home, particularly when they are having to pay high rents for offices in most cities.
The pod that was originally created for the homeworking market is the Office pod. This range has developed into a full range of different sized pods to suit all sorts of requirements. All the pods give full ceiling height all round the pod which allow the use of ergonomic office chairs in any position. The larger units are commonly used in schools and universities to utilise their outdoor space but the smaller units are perfect as extra consultancy spaces for NHS departments or homework office pods. The images at the start of this blog are from a recent installation in Sheffield for St Lukes Hospice which was the first of 2 no. pods that have been supplied to them. These pods are the larger 7.1 size. 
The smallest option in the office pod range is the 1.0 series which measures 2.52m x 1.39m. There are two options in this range with either the door at the corner or the centre. The layout with the door in the centre allows a little more usable space inside and allows the rear wall to be used for storage or for a printer for example. If you do have more space to play with the 2.0 series gives much more floor area. It measures 2.25m x 2.25m which gives an internal usable space of 1.94m x 1.94m. The 3.0 series is the larger unit that is common for homeworking, although larger units than the 3.0 are available they are more often used for outdoor meeting spaces...unless you want that executive office feel in the garden or need space for more than one person. The 3.0 series measures 3.11m x 3.11m externally with an internal space of 2.8m x 2.8m. 
All of the units in Office pod range are delivered flat packed to enable installation in tight spaces by the install team. Installation can be in as little as a day, with minimal disturbance. The life expectancy of these units is 35+ years.  The units are fitted with an electrical distribution board, power sockets, lighting (LED) and ventilation as standard. Heating is available as an option. The office pod units are all double glazed with toughened galss which helps give a sound insulation rating of 40dB.
Another pod that has been very successful for residential use are the pods from Ornate Garden. Although these pods are designed more for social use in gardens they can equally be used as outdoor meeting spaces or as office pods. The shape of the pods does not allow for the easy use of an ergonomic chair when in the standard format but the larger pods can be supplied without the fitted peripheral seating allowing a task chair in the centre with a desk to the side. Although not as space efficient as the Office pod this can result in a fantastic home office that blends well into the garden. Again these are delivered in component form, for easy installation hard to access areas, and are a good value option for your garden office pod. The units in this range that would be suitable or use as a home office range in size from the Oval House pod (2.9m x 2.4m) up to the Large Oval house which measures 4.7m x 2.5m. 
The Ornate Garden pods offer 360 degree panoramic views, stainless steel roof for shade and reflecting heat and laminated sustainable spruce timber arcs. they are supplied wth LED lighting and heating and have either a space saving up and over door or lockable patio style doors.
The outdoor pod from The Meeting pod company is a good low cost optoin for an external pod. The internal version of this pod is extremely popular in offices in the UK as its very good value, space efficient and has a unique look. The outdoor version has a panel on the rear that can be solid or glazed and a fully glazed front section with lockable door. Although not as space efficient due to the fixed seating on the sides, this is a good value solution to your home office pod requirements.