JKR main project #1
Posted on:

29 January 2014

By:

admin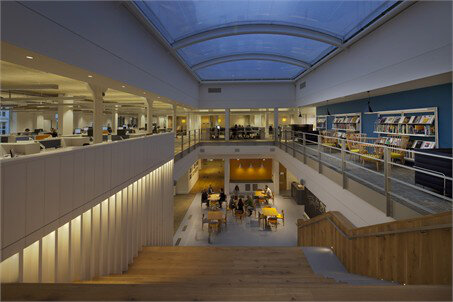 JKR Oval road office
WE started working with JKR back in 2010 when they needed to increase the number of workstations in their office from 90 up to 120 workstations whilst also trying to increase potential meeting spaces. Whilst doing this we had to bear in mind that the furniture would need to be reconfigured a number of times and used in their new office space at "some time" in the future. We worked with Redjacket design throughout and boosted their workstation count to 120 on the first project and then around 160 with the Oval road move.
The solution for this was to use Ad Hoc workstations from Vitra along with some Alcove seating options to provide additional breakout space. Several small JKR projects later has brought us to the main office move that JKR had been looking forward to for some time, and their new location was to be two floors in the Henson building just down the street from their Albert Road offices. 
The Oval road project started in 2012 and working with Redjacket Design and JKRs facilities team WE started to work through a number of planning and specification issues to get to a final design. As often happens in these situations changes in certain aspects of the plans and fit out specifications meant re-evaluating the products and specifications a number of times but the final design was well worth the effort.
Due to the complexity of the furniture reconfiguration WE agreed to manage the office relocation itself which was completed in two phases in July. Not exactly a text book move as the air conditioning failed in both offices during the move in the middle of the heat wave!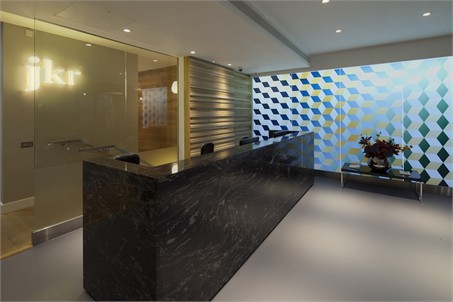 JKR reception area
The end result was stunning however and there are a few visuals shown in this blog but we will give some more details in some blog "supplements" over the next few weeks. Alternatively some additional information can be seen on our Twitter and Facebook pages. JKR were happy with the result too as can be seen from the feedback we received:
"Jkr have used Working Environments for several years now and I love working with them!  They have an amazing knowledge of all-things furniture, from desks, chairs, soft furnishings to work walls and nothing I have ever asked them for has been beyond their ability to propose and deliver.  They respond with speed and flair and imagination and will always have a solution to a problem.  I can't recommend them more highly!!!"
Katie Lane Head Of HR & Office Management JKR Ltd