Meeting Pod Projects
Posted on:

11 October 2023

By:

harvey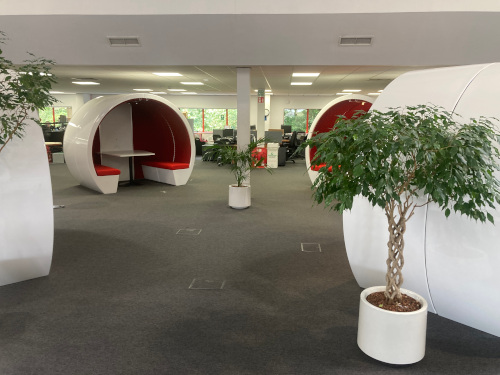 It seems as though eveyone needs pods these days. Whether its meeting pods of various sizes, video conferencing pods for Zoom and Teams meets or just Solo working pods for improved concentration in offices. There is a definite increase in companies preferring to have rooms they can move around.
The increased flexibility and often improved acoustics of pods are a facilities manager's dream without the complicated lease agreements sometimes needed and reduced flexibility of some traditional stud wall options. 
One recent client wanted to create a better meeting space in the centre of an open plan office. They didn't need to be completely closed off so they chose the open fronted meeting pod from The Meeting Pod company and had 4 units installed with a bespoke red foam interior and fabric seat. The set up has worked fantastically and creates a real Hub of activity in the centre of the open plan space.
Another client wanted to create some quiet meeting spaces in one of their office areas. They chose the Container pod from The Meeting Pod Company to create two private spaces. The install went really well and the client is over the moon with their new rooms and vibrant fabric interiors.  
At Working Environments we work closely with the clients to identify which pod would be best for them. We deal with a number of different manufacturers and can always find a suitable product that meets your particular needs. So Contact us for help in finding your perfect pod.