Outdoor Furniture
Posted on:

3 March 2016

By:

harvey-old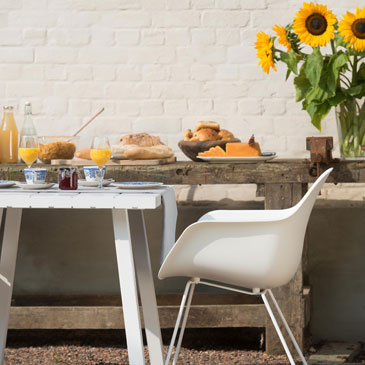 It's that time of year when you need to be considering furniture for your outdoor projects. It may even be getting a little late for that for some of the manufacturers with longer lead times!
Hard to believe yesterday with the sleet and snow but with the sun out today, its a touch easier to believe that Spring is round the corner. To try and help with your outdoor furniture WE have added an outdoor furniture section to our canteen and cafe furniture category. Although  this only shows a small sample of the products we can supply for the outdoors, it should at least give you taster for the style and quality of the products WE supply.
Although WE still supply the traditional format of outdoor cafe chairs and tables for restaurant and cafe terraces, there is always a requirement for new ideas. WE can now supply meeting or eating "Hubs" for exterior use, such as the Kosmos product, as well as large format tables and picnic benches that are a far cry from the traditional pub trestle table that are still the norm in many an Ale houses garden (such as Pontsun, Pantagruel or Air bench). And as for unique products you can't really beat an exterior sofa such as the Walrus or even a divider like "Sticks".
The other area where we have a large requirement for outdoor furniture is for public seating. Councils, shopping centres and even offices and schools have a requirement for outdoor public seating. There is no need to assume the traditional route with a standard park bench style! Be brave and try something new from our exterior public seating section such as the stone, treeline bench or the Hopper bench. 
There are a lot of products to look at and this is only a small sample, so please feel free to contact us with a brief of what you want to achieve. WE may suggest a different product to the ones currently on our website if we feel that would be a better fit for your project. And remember the lead times! The manufacturing time can vary from 4 to 10 weeks so if you want delivery for early May, when the weather is better, then you may need to decide quickly!