Outdoor (or indoor!) meeting pods
Posted on:

29 January 2018

By:

harvey
With companies constantly looking to maximise the use of their Real Estate one area that is often ignored is the outdoor space. With meeting rooms, video conference suites and even classrooms in high demand, but with available space at a minimum, one solution is to use a modular meeting pod system that can be used outdoors.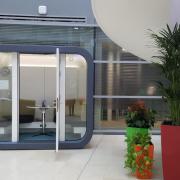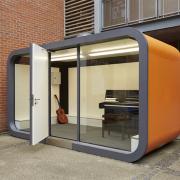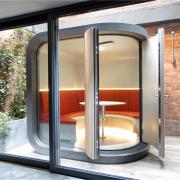 Probably the most effective one of these on the market at the moment is the Office Pod. This product is available in a range of sizes from the 2.5m x 1.4m model 1.1 for teleconferencing and one to one meetings to the 4.25m x 3.1m series 7 model for larger group meetings, seminars and collaboration. The pods have been designed and tested for external use but can, of course, be used internally as well. The clean-cut aesthetics of the product means it doesn't look out of place in either environment. It has insulated floor walls and roof and can be assembled in as little as a day (for 1.0 to 3.0 Series) or 2 days for larger PODs but subject to site conditions. Because of its modular design, the pods can be easily relocated and are installed with minimal planning, intervention or disturbance. The pods simply need a power socket and suitable hard standing. The range has a 10-year warranty on the main panels, door and glazing system but with the correct maintenance, the life expectancy of the product is over 30 years.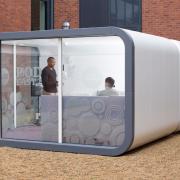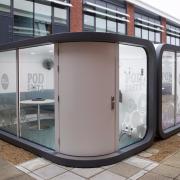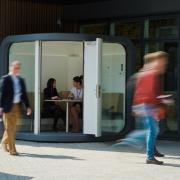 The practicalities with the design make it very user-friendly. It arrives flat packed to facilitate assembly in difficult to access locations. The units are complete with power, lighting and ventilation as standard and heating is an option for all externally located PODs. The pods have a sound insulation rating of 40db as well as excellent thermal insulation. 
There is a range of fitted furniture available for the units depending on how you want them to be utilised and there are disabled access options available for all PODs.  External panels and door are made from a Monocoque composite structure and all glazing is double glazed with toughened glass.
The standard power provided is 1 no. double socket for small PODs (for 1.0 to 3.0 Series) or 2 double sockets for larger PODs. All lighting supplied is low voltage LED and there is a choice of carpet and vinyl floor coverings included in the price.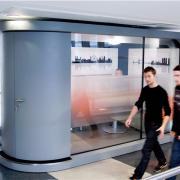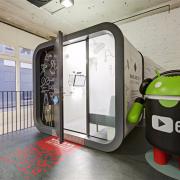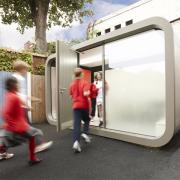 There are so many ways these pods can be used depending on your environment. Offices can use them externally to maximise the use of areas that were previously redundant in winter and only occasionally used in the summer. Alternatively, they can be used internally to create well-insulated areas without the costly and inflexible build costs usually associated with constructing additional rooms. Then, of course, they can take the pod with them when they move offices. Space is always at a premium in schools and universities but how refreshing to have a simple solution in hand to create a new space in a corner of a playground or walkway between buildings that can now be the new music room, seminar space or even small classroom. For the home office you can add a warm modern environment at the bottom of the garden, in an internal courtyard or in the wood at the bottom of the paddock! Often this can be completed without planning although this would depend on individual circumstances. Banks could create private meeting areas in existing branches or even in more public spaces where they may have a branch such as a shopping centre. The possibilities are limited only by our imaginations.