Clever storage for efficient spaces
Posted on:

7 March 2016

By:

harvey-old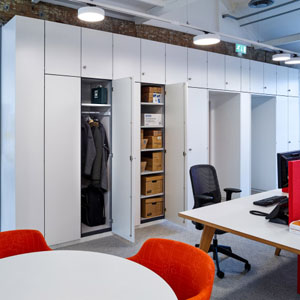 Although many companies are aiming for paperless offices there are still some that need ample filing space in their work environment, as well as storage space for other items such as product samples. With space as ever at a premium it makes sense to look at clever storage options so that you are using the available space for your staff!
Two storage solutions that can make the biggest space savings by providing efficient storage are Storage wall and mobile shelving systems. WE will look at storage wall in this blog and tackle mobile shelving next time.
Storage wall is extremely efficient as it uses the full height of a room for storage rather than the standard 2m high storage units. Even if the higher parts of these units seem out of reach, they can still be used for archiving or long term storage. Storage wall is also much neater. You will find in many offices with standard storage units that the tops of the cupboards are still used as "dumping grounds" for items without a home and once there, they are rarely moved! Not only for shelving, storage wall can be used to construct everything from breakout spaces, tea points and postal areas to boardrooms!
Storage wall can also be used as a room divider. This can save money and space when creating a new office and will save money the next time you move as well, as the units can be taken down and re-used at your new office. When used as a room divider these units can also serve additional purposes as the rear of the storage units can be used for display purposes and can support flat screens, whiteboards etc. The storage wall units can even be used as curved sections to create bespoke meeting hubs such as in the image below.
One use of a storage wall that is growing in popularity is to use them for lockers. By using storage wall they have a more "fitted" appearance and feel part of the office rather than an "add on" as some of the traditional lockers can look. With the growth of hot-desking requirements in many offices, the lockers can be tailored to suit a companies requirements whether it be with digital locks, letterboxes or facilities for hot boxes or caddies. Differently shaped lockers such as "Z" lockers allow the units to be adapted to suit different requirements. The First image below shows a recent project for Bond Davidson where we created lockers for each floor along with additional storage and postal area services, all in a bespoke finish.
For the ultimate in space efficiency and adaptability the workwall system has been used to great effect in schools and Universities by using them to create workwalls. The full height of the wall can be used to create storage as well as creating space for housing flat screens with doors that can double as whiteboards to increase the flexibility of the space. Alternatively, they have been just as effectively in offices to create smart walls for large scale flat screens for presentations....or for video games!
Finally the appearance of the lockers or storage wall can be adjusted in many ways from bespoke construction methods to fitting them with graphics in the form of manifestaions. This allows the storage system to be fully incoorporated into the design of the office in a way that you can't really do with traditional freestanding lockers. A recent project for Funding Circle used the manifestations to great effect to break up the harsh lines of the storage wall with inspirational messages or fun visuals. 
In summary the storage wall product can be used to give cost effective and space efficient solutions to a host of requirements. For assistance in working out your requirements and resolving those storage problems please contact us and we will be happy to help.