Furniture trends for 2018/19
Posted on:

16 November 2018

By:

ben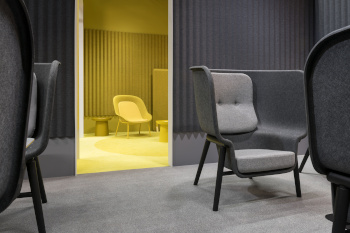 The theme of Orgatec this year was 'culture@work' and although a few weeks have passed since the show we thought that we would share a few products and trends that stood out for us.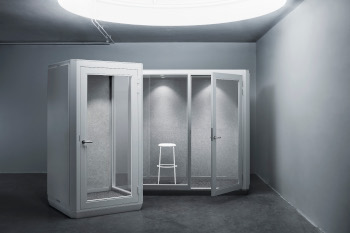 Abstracta Plenty Pod
1. Pods
This trend has become more and more prevalent as open-plan or co- working spaces continue to throw up the issue of balancing acoustics as well as privacy. Pods are gaining in popularity as they are an easy way to create private spaces and they can also be transferred in office moves. Our top picks come from Framery, Citterio, SBS and Abstracta.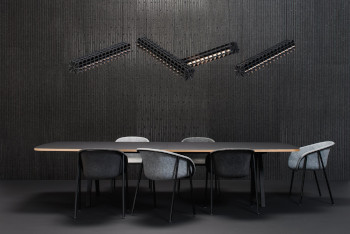 De Vorm Radial PET Felt Pendant Lamp
2. Industrial shapes
Taking tactile materials such as felt and paper are manipulated into industrial and architectural shapes and forms. Best witnessed in the Radial PET Felt Pendant Lamp from De Vorm and the Brut chair from Magis.
Artifort Andrea Chair                                                                      +Halle Torno Sofa
3. Colourful or chunkier tubular frameworks
Metal tubes used in the structure of furniture is not necessarily a new trend. However many manufacturers have been playing with this concept to keep it contemporary. Some have used colour to either contrast or match between the frame and the upholstery, seen in products such as the Artifort Andrea series. 
Others have played with the size of the tube to make chunkier, more generous tubular frameworks. +Halle's Torno series is a great example of this simple yet playful idea of the generous curve. As well as the BuzziSpark from BuzziSpace which uses a wide tube to wrap around the base of their sofa with privacy built in.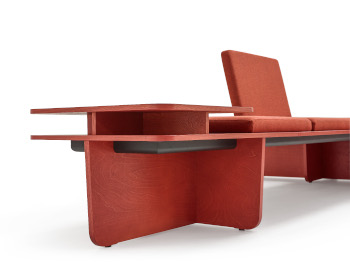 Lande Flatlands Modular Sofa
4. Adaptable modular furniture
Modular furniture that can be constructed in multiple configurations continues to be a primary focus for designers. One particular piece of furniture that encapsulated this for us was the Lande Flatlands modular sofa  Another great modular series is the Kiik from Arper which is also available in numerous configurations making it versatile and flexible for any space. 
It was clear from the show that there is a much stronger understanding of how working environments impact and influence work culture. From public spaces becoming creative hubs to office layout and multifunctional spaces allowing for more collaborative work cultures, the focus is on intelligent functional design to enhance working environments.