Opening an office abroad?
Posted on:

26 June 2012

By:

admin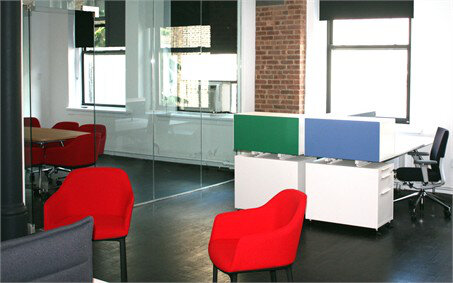 JKR New York Offices
WE have had great fun in the last few months helping JKR to furnish their new offices in New York. From an initial brief we helped space plan the new premises to allow for 15 workstations to start with, reception area, greeting space and meeting room as well as plan in some potential expansion.
We worked closely with a dealer in the US to arrange loan furniture for the interim period to help JKR NY get up and running. After specification and ordering WE then co-ordinated removal of the loan furniture, delivery and unpacking of the new Vitra furniture and then on the Saturday the set up and installation of the product allowing for IT installation on the Sunday.
The product supplied needed to match the style of the 120 workstation project we installed for JKR 2 years ago and so we specified Ad Hoc desks with bespoke fabric panels on the top boxes and screens. They also had non standard fixed pedestals which involved the fabrication of some bespoke brackets which proved slightly tricky to get through the scanner at Heathrow! As well as these we supplied ID operators chairs, Arik Levy storage, Alcove sofa's, Softshell meeting and reception chairs, a Plate table and a Meda Morph Oak veneer meeting table to create their new Working Environment.
Most of the planning and arrangements were completed from the UK with co-ordination with the JKR NY team, Vitra NY, a local Vitra dealer and a furniture hire company but the project did involve two visits to New York for a Recce and the actual install weekend....which were great fun! Some of the highlights being a fantastic view of how they repair a road New York style (London can learn a lot from New York!), breakfast at the boathouse in central park overlooking the boating lake,  the best drummer I've ever seen that uses only plastic buckets and handy nearby bins, teaching the NY team how to install the Ad Hoc range (which they loved...cheers lads) and missing my flight back home but ending up getting a better seat after waiting on stand by for all of 20 minutes (thanks BA, you were fab....although they did then lose my bag!). 
We have sent product abroad many times but its great to co-ordinate an entire project so far away and this shows just how simple it is. Its also a lot of fun for us so please give us a call if you need to set up an office abroad.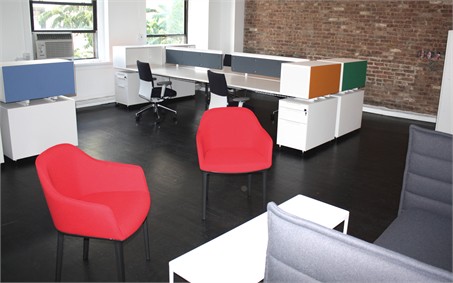 JKR office