Why have an acoustic pod and which one is right for me?
Posted on:

15 November 2016

By:

harvey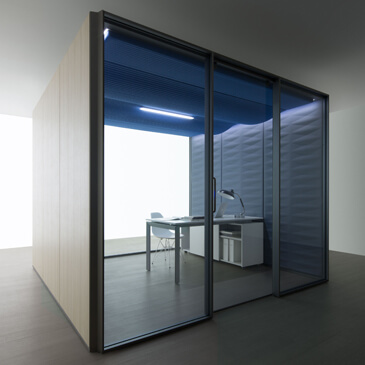 Acoustic pods and meeting pods are some of our most popular products at the moment. The room in a room concept has been developed for facilities managers looking to:
increase flexibility of their workspace
reduce impact of build work and costly office downtime 
take out the requirement for project planning, building regulation approval, coordination with external contractors and fixed connections into the buildings infrastructure
increase acoustic performance
eliminate dilapidation costs
create a flexible room that can easily be adjusted for different uses, from private office and call area to training or presentation suite.
One major advantage of meeting pods compared to more traditional stud wall and demountable partition systems is that the pods are classed as furniture and so can be leased. The advantages of leasing the pods are:
protects liquidity
protects credit lines
offers regular, predictable instalments
offers tax advantages, as the instalments are included under operating expenses
enables capital expenditure, even in difficult economic circumstances
This requirement has led to many new products being developed in order to create rooms of different types. The most common requirements for these flexible meeting spaces are:
There is now a wide selection of products on the market place that can help with these requirements, which product is most suitable for you will depend on the criteria for your particular project such as:
what size room(s) is required in your layout?
what level of sound attenuation do you need to achieve?
what sort of look and aesthetic are you aiming for, will the pod be for company staff, client facing or both?
how many people do you need to seat and in what style?
do you have any basebuild finish that you need to match in with?
how moveable do the units need to be?
what is the ceiling height in the space you are looking to install the units?
what are you looking to use the pods for and what accessories may you need?
does the interior furniture need to be moveable?
do you have a sprinkler system in your office or any particular fire regulation requirements?
what floor is it on? How accessible is the space?
Working Environments Furniture can work with you to answer these questions and determine the most suitable product choices for your needs. Have a look at our meeting pods blog for details on the different products and ranges on the market available from WE today and give us a call to discuss your options for a new solution that is right for you.
If meeting or acoustic pods are not the right products to suit your requirements, you may find a meeting bay, highback seating area or more open breakout space will meet your needs more accurately. Look out for our blog over the next few weeks covering this area or go to our website now and search the categories for our extensive range of flexible furniture to meet all needs. We are very happy to discuss our services and products in more detail so do call us for assistance.