New Flexible Office Workspace
Posted on:

20 July 2022

By:

harvey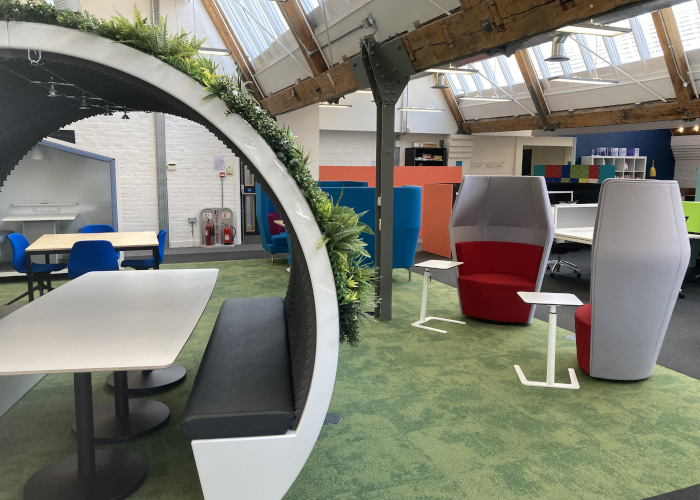 Over the past 18 months WE have worked with Havas Life Medicom to transform a number of their office spaces into more colourful and flexible workspaces. Each of the 3 spaces has a central feature giving the room a central focus and new informal meeting spaces have been created of varying types.
In all 3 spaces there has also been recognition of the need for quiet call areas with the use of different specifications of pods and flexibility has been paramount in the creation of the spaces so that staff can change and adapt the way they interact. 
Space 1
The first space WE designed used the rotating lounger pod as a central feature in the office. The pod is ideal for small group meetings and can be rotated to face the high back meeting area, the Peek seating units, or open space if there is a requirement to present to the pod occupants.  The desk count in this space was reduced and workstations were spaced out and acoustic screens were introduced to help noise levels and inject more colour. A bespoke green wall helped create the feeling of "bringing the outside in" and a seat box unit was used to give the additional video conference space that today's busy offices need. Finally bespoke lockers with colourful laminate doors were introduced so that a hot desking approach to desk allocation could be adopted and staff could move away from static storage and pedestals.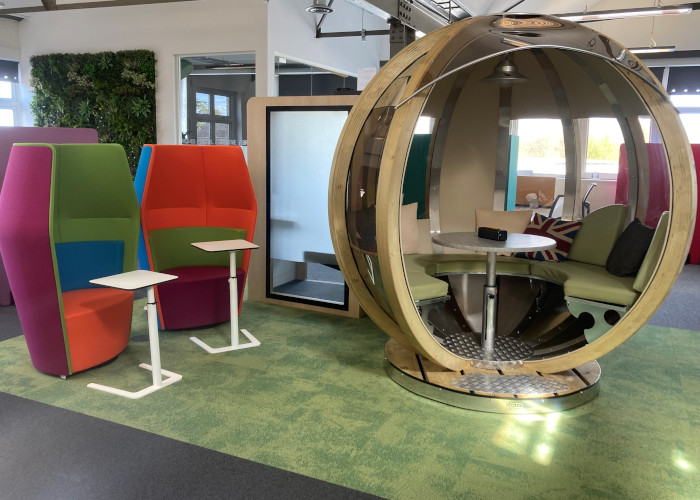 Space 2
The next space needed to make similar changes to the way they worked but without reducing the desk count too much. WE were able to adjust layouts to create more space on the centre of the room. Here we used a 6 person open meeting pod  with bespoke Greenery covering to again create a feelig of bringing the outside in. Meeting tables are all on castors and meeting chairs are either on castors or sled bases to allow for easy reconfiguration. A hush Twin pod was introduced to give additional video conferencing space without sacrificing too much floor space. A small Nook pod was introduced to allow for some semi private meeting space in the open plan office and colourful high back seating was introduced for additional Agile workspace and to help divide the space in a functional way.  Areas were zoned with the installation of new green carpet tiles and acoustic screens and bespoke coloured lockers were used to help acoustics and zoning. Finally bespoke Morph walls were built and fitted with Orange acoustic covering to separate certain desks areas and screen off the printer and office services space. As a final splash of colour, Nomad desk screens were used randomly in vibrant colours to introduce colour to the already existing desks. 
Space 3
The final space was again zoned using the carpet tiles to create a central sofa space but it was also kept more private with the use of cage shelving and careful positioning of additional Peek seats and laptop tables. A nook pod was again used in the entrance to thsi space to make use of what had previously been a relatively dead space. A Seat Box unit gives the all important video conferencing facility and meeting tables were again supplied on castors to create flexibility for staff. A bespoke Morph wall was used to screen off the kitchen area and it was fixed to the existing wall with bespoke wall fixings then finished with Yellow acoustic panels. 
This was a fun and creative project to be involved in and the end result was colourful and flexible, just as the client required.