Orgatec 2012 # 1
Posted on:

25 October 2012

By:

admin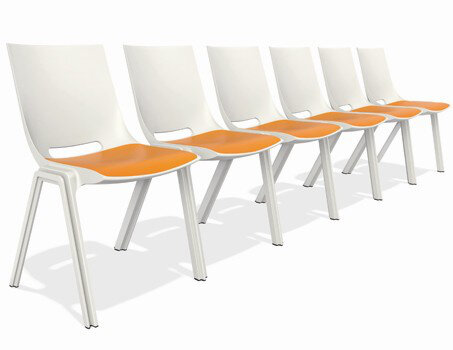 Monolink stacking and linking chair
Orgatec 2012 introduced some fantastic new products although probably not as many as I would have liked to have seen. The refreshing thing was that the most original products at the show were from some of our favourite manufacturers such as Buzzispace, Vitra, Casala and Muller.
Casala's Monolink chair is surely a red dot award waiting to happen! It will be available in 3 colours with different coloured seat pads and the linking mechanism moulded into the seat frame itself. It can also be supplied with one of Casala's previous red dot winners Zifra, to give comprehensive, reprogrammable seat numbering. It will be very competitively priced and is likely to be a great solution to a host of uses from educational to hotel and hospitality. The simplicity and form can be seen in the Monolink video. Casala also have a new bar stool as well as new tutorial table.
Buzziwings room dividers
Buzzispace have certainly not been resting on their recycled laurels. With the introduction of the architecturally inspired "Buzziwings" range . The Buzziwings system introduces a new way to creat space in an open environment. As well as the original appearance  and improvements to sound absorption, it provides a great opportunity to introduce colour into an environment.
Buzzitemp Workstations
Buzzispace have also introduced, Buzzigrid, Buzzime and Buzzitemp. The Buzzigrid is an expandable ceiling raft system that looks great, is easy to install and allows light and lighting fixtures to fit through whilst still acting as a sound baffle. 
Buzzigrid ceiling baffle
Vitra introduced the physix chair, independent screens for alcove as well as a new screen system and some great concept cork furniture. We'll go into more depth on these in the next blog though, along with details on the new desk range from Muller.