Meeting Bays
Posted on:

2 December 2016

By:

harvey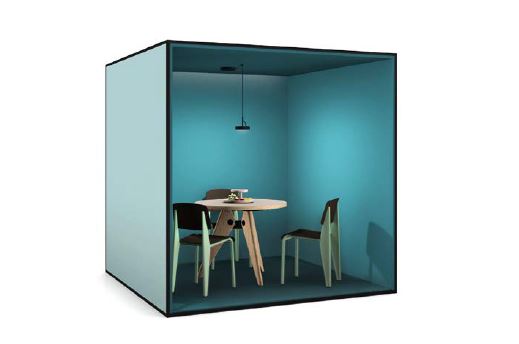 As a continuation on our series for meeting spaces WE are looking at the ranges and options for meeting bays that are proving popular at the moment. For definition purposes meeting bays are separate areas for meeting spaces that have at least two "walls" of some description but are not completely enclosed spaces (such as with meeting pods).
Some meeting bays have been designed for the purpose specifically whereas others may be the natural development of other products such as screen systems or high back sofas. However the product has developed they generally have the the same target purposes:
To create a separate area for meetings and discussions
to allow for increased privacy from the open plan areas
to give some level of acoustic attenuation
Often meeting bays can be a structural item built by the contractor at the time of the original office fit out. It is becoming more common these days to use meeting bay products to allow for increased flexibility, reduced dilapidation costs, opportunities with leasing and many of the advantages that you would get from meeting pods that we covered in our previous blog "why have an acoustic pod and which one is right for me?"
Many of these ranges are extremely flexible systems and can be used in a variety of ways to create meeting or study spaces, private work areas and interview spaces. Some examples of these would be the  Workbays system from Vitra or the Cubbi workbays from Connection. The Den acoustic range is also a very flexible system that has a very solid feel to it and the new Lets meet range from Forma 5 is similarly solid in construction but with a good design aesthetic.
One of the most flexible systems available at the moment though would be the Kado system. This can be used as a construction system to build just about anything in your office from Kado meeting bays to storage systems, desks, meeting tables, breakout spaces, internal divisions, tea points etc. The only limit with this system really is your imagination.
The Rooms system from Connection gives segregated space without feeling too enclosed. With a good ceiling height and different options for wall coverings it is easy to create an internal space that fits your brand without the space feeling claustrophobic.
The Railway carriage system is probably as close as you will get to a traditional fixed contractor built system but this one can be taken down and moved if required. Typically enclosed on 3 sides and with a ceiling this system gives good sound attenuation and has the flexibility of having bespoke options for internal and external finishes.
One range that has developed to get more and more flexible is the Hive system. Now available with legs this system can have different height backs to take it from a seating system right up to an almost fully enclosed meeting bay with canopy. the upholstery quality on this system is very good and having the flexibility of being able to decide "how high" you want to go with the panels is a bonus. 
This is only a small selection of the meeting bay products on offer and WE haven't even touched on the extensive Away From The Desk range from Orangebox which could fill an entire blog on its own. If you are looking for this type of product WE would recommend you contact us so we can help you work out the appropriate criteria for your requirements and then we can recommend which product would be best for you.