Working with SBS: acoustic pods that bring joie de vivre to your work space
Posted on:

3 June 2019

By:

ben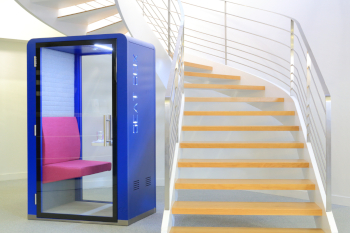 At Working Environments Ltd we always champion products and manufacturers that we think get it. Whether it is adaptability, sustainability, cost effectiveness or good design there are some manufacturers that have, in our opinion , gone the extra mile to deliver excellent products.
Silent Business Solutions (SBS) is one such manufacturer that we are thrilled to announce we are working with.
SBS are a French manufacturer of acoustic pods who believe that silence improves your employees' well-being to help them to focus and be more productive. We couldn't agree more and with their innovations in design and available combinations of material and fabric choices, their pods create a unique acoustic space that suits you.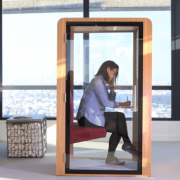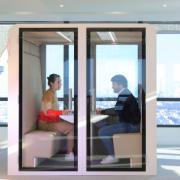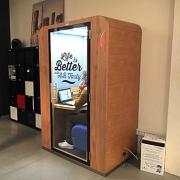 Businesses are constantly needing to make their office spaces work harder for them and using meeting or working pods is an excellent way to do this cost effectively - see our blog on outdoor and indoor pods here. If you are looking for an acoustic solution for your office or work space we would highly recommend SBS for a number of reasons and in particular the Procyon Seat Box for its:
Compact size - the Seat Box is a work station for just one and its compact design means it takes up minimal floor space. We believe at this moment that this makes this product unique in the market. Being not much bigger than a photocopier means that it will fit into any space comfortably and not dominate the office.
Easy Installation - due to its compact size the Seat Box is able to be delivered ready to plug and play making installation easy. It also fits in a standard lift, with no need for complex logistics to get the pod into your office.
Mobility - equipped with wheels the Seat Box can easily be moved into new locations with the minimum of fuss and effort. Unlike other pods which require breaking down and refitting, the Seat Box can be repositioned without the need for additional moving costs. This is a huge benefit should your business relocate offices in the future. See how easy it is to move in this six second video!
Acoustic credentials - the Seat Box is part of their Procyon collection which is the latest generation of collaborative acoustic design delivering excellent sound insulation of 38 dBA. In reducing ambient noise up to 38 decibels, employees are more productive and engaged. This allows companies to attract and retain top talent, reduce costs and build a healthy and happy office culture.
Customization - Having a choice in the fabrics and material that your furniture is made with is always a good thing; in this case SBS have thousands of possible combinations of materials and finishes for you to choose from. They have all been carefully tested and selected of course.
This is a great solution for businesses that require a lot of private working environments such as recruitment agencies or sales offices. It has also been used in public spaces such as a number of train stations in France, providing secure spaces for people having to wait long times for their connections. The Procyon Seat Box is just one of the fantastic pods that they offer; there is also the Procyon Stand Up, Procyon Uno, Procyon Duo, Quatro and Sixo, Procyon Dream Box and Procyon Mobility.
Not only that but even after the warranty period has expired, their after-sales service teams continue to work with our clients to ensure that the use of the pods is always optimal.
For more information about the SBS Procyon Seat Box or any of their other pods please get in touch and see for yourself just how good their products really are.